Best Leather Laptop Bags for Professional Men 2023
Everyone needs a good and durable laptop bag, no matter their age, gender, or profession! If you are a guy looking for something trendy, chic, modern, and practical that you can rock in 2023, don't worry, as we got your back! In this article, we will be reviewing and talking about some cool and practical models that you can go for while staying within your budget. Here is how to narrow down your options and your selection.

How to choose the best bag?
Carrying your laptop around in a briefcase, messenger bag, or tote is convenient, but leather is by far the most stylish and durable option. You may need to put in some effort in order to find the perfect leather handbag. The first thing you should do is decide if you want to carry your laptop in a briefcase, duffel bag, messenger bag, or backpack. Next, think about the features you'd like to see on your leather bag, such as compartments, padding, a secure closure, easy access, etc. The final step in making a unique bag is selecting the type of leather to be used.
This kind of grain can only be found on the top layer of the hide, which is where the greatest leather is. It is sold to the public without even being sanded or polished. In other words, your bag will still have the natural flaws that come with using animal hide. This will develop a lovely patina as time passes. Since not everyone appreciates patinas, full-grain leather may not be for you if you'd rather your leather look more uniform and polished. Because it cannot be chemically processed, the most expensive type of leather is also the most challenging to work with. Full-grain leather, on the other hand, is the toughest and longest-lasting option.
What is the difference between a messenger and a shoulder bag?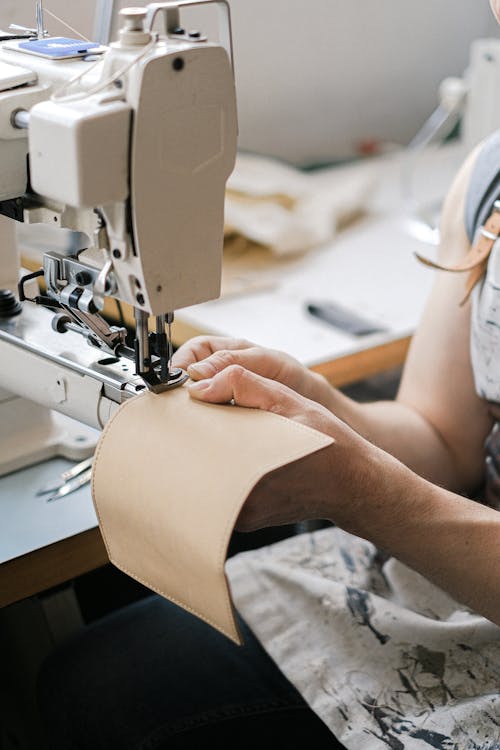 "Shoulder bag" and "messenger bag" are frequently used interchangeably even though they have different functions. Cross-body bags known as messenger bags can be recognized by their multiple interior pockets, flap closing, and adjustable shoulder strap. A shoulder bag is a type of purse that can be slung over the wearer's shoulder thanks to a single, long strap. In contrast to messenger bags, shoulder bags do not have top handles. Compared to their shoulder bag equivalents, which are more frequently seen in more casual settings, messenger bags have come to be associated with an active lifestyle. This is not to imply that a messenger bag cannot be utilized for business purposes or that a shoulder bag cannot be used in a more laid-back, energetic setting.
What To Look For In A Laptop Bag?
Get something water-resistant
No one wants their electronic devices to get wet and stop functioning all of a sudden. Your laptop bag must be water-resistant to be effective, especially if you live somewhere where it's constantly raining or snowing. Your bag doesn't need to be a scuba diving bag. It only needs to be durable enough to endure rain for five to ten minutes.
The weight of the bag
The typical laptop weighs between 4 and 15 pounds, if you didn't know. When you add in the weight of your laptop, mouse, spare keyboard, documents, and wallet, you may be carrying as many as six kilograms in your backpack. There are many benefits to using a laptop backpack as opposed to a backpack with shoulder straps. Experts recommend not going further than 90 meters when carrying a bag weighing between 4 and 6 kg on your back or shoulder, so keep that in mind when doing your shopping.
Good durable quality
A sturdy fabric is necessary. The bag is there to protect your laptop, which is a necessary piece of gear. Make sure the fabric is robust enough but not too heavy. A plastic enclosure is another choice for people who would want a hard top and extra security. Your laptop bag must have robust zippers for the highest level of security. You want the zippers to last a long time because a damaged one makes the entire bag useless. A backpack with lots of padding, especially on the shoulder strap, is necessary to safeguard both your back and your laptop. Scratch-resistant sleeves are needed if you're carrying an iPad or tablet in addition to your laptop.
Look at the dimensions
Almost always, tablet and laptop dimensions are given in inches. The inch is a variant of the centimeter that was developed in the United Kingdom and the United States. Obviously, there are differences, but this is the easiest way to compare them. One inch is equivalent to 2.54 centimeters, so it's easy to determine how many centimeters your laptop is. Start measuring from the lower left corner of your screen to the upper right corner using a ruler. Is the screen on your laptop or tablet 33 centimeters? You possess a 13-inch laptop as well. Now that you know the dimensions of your laptop, it is easier to locate a suitable bag. Typically, laptop bags are 16 to 17 inches wide and 12 to 13 inches tall, but this varies as larger bags are required to accommodate larger laptops. A laptop bag's depth can also differ but is typically around 3 inches deep. Do the measuring before buying.
Best Leather Laptop Bags for Professional Men 2023
Founded in 2008, Bostanten provides luxury leather bags that allow you to move throughout your day in style. Presenting one of the largest fashion catalogs, the brand offers durability, quality, design, and accessibility for both guys and girls. You can enjoy waterproof nylon briefcases, along with duffle or laptop kinds for your practical storage. A ton of bags are available in black, brown, light brown, or red shades. You will end up with practical storage and can even get a matching wallet off of the site. Check Bostanten out and see for yourself.
So, are you ready to shop?
View more articles:
Top 6 Must-Read Blogs For Female Law Students
7 Things To Look Out For BEFORE Buying A Leather Bag

---