Women's Leather Weekend Travel Bag -The Travel Bag You've Been Looking For
Women's leather weekend travel bag is a stylish and functional luggage carrier, allowing ladies to carry their belongings on short trips with style. These bags are spacious to hold all the essentials for a two-day sabbatical yet compact enough to make travelling light and hassle-free.
With plenty of pockets and straps, these types of travel bags are designed with convenience in mind. It can be zipped up tightly or rolled up as needed and also provides exceptional durability and protection against dirt, dust, water damage, and scratches.
The adjustable shoulder straps allow for a comfortable travel experience. The perfect companion for any weekend getaway, this women's leather weekend travel bag will keep your belongings organized and secure.
Whether heading to the beach or exploring a new city, it will make your travels enjoyable and stress-free. Women's leather weekend travel bags offer a perfect mix of practicality, style, and elegance – the ideal choice for any style-conscious traveller.

Features Of Women's Leather Weekend Travel Bag
The women's leather weekend travel bag is perfect for your weekend getaway. It is designed to accommodate your travel needs and provide secure storage, with multiple compartments and pockets inside and out.
The women's weekend travel bag offers a wide variety of straps and handles, giving women a perfect choice to carry the bag around effortlessly in style and comfort. Additionally, the bag features an adjustable, extendable shoulder strap so everyone can adjust it to fit perfectly regardless of size or height.
Not only does the women's weekend travel bag offer security and convenience during every trip, but it also showcases luxurious design elements, including signature hardware, which adds texture and flair for added sophistication.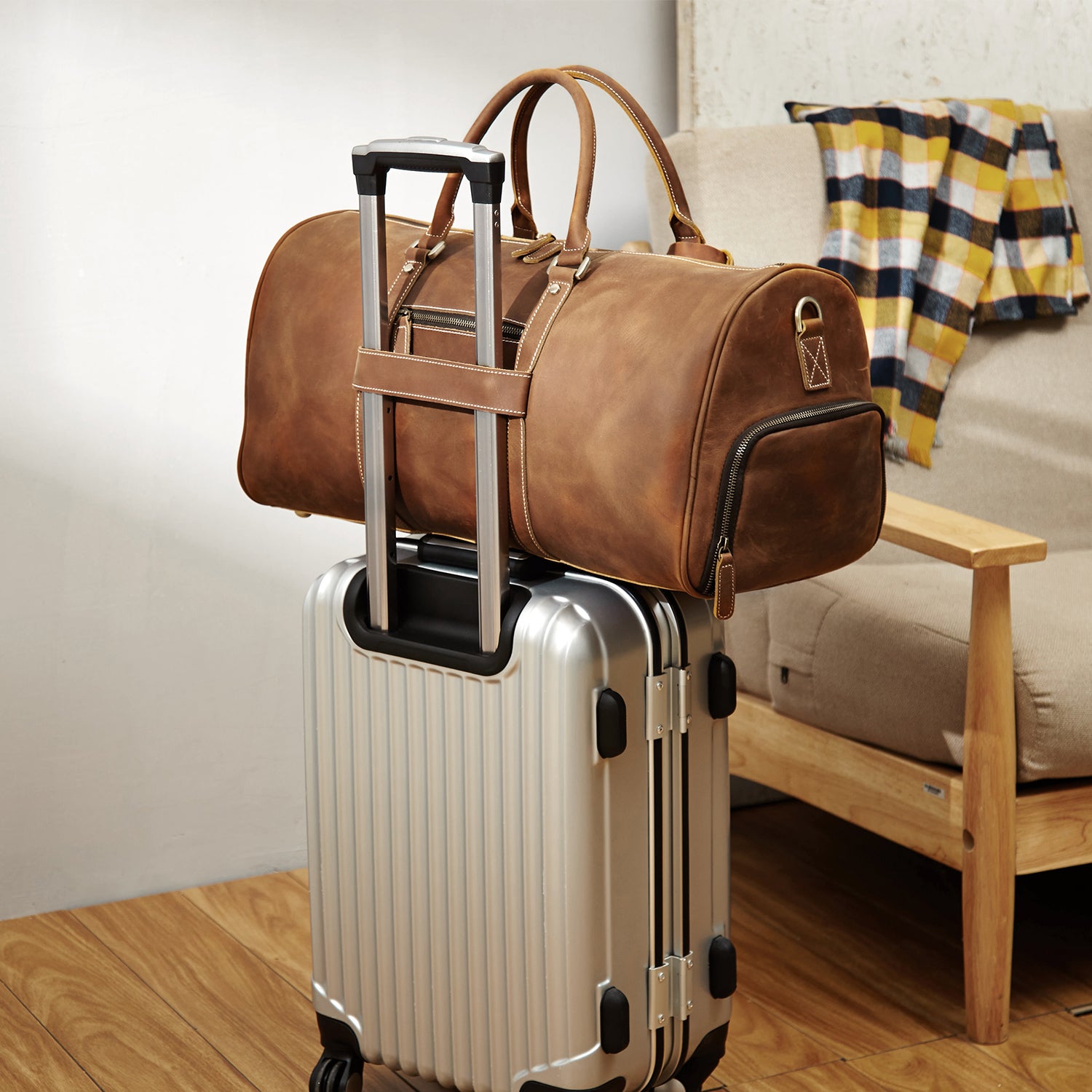 Why Is The Women's Leather Travel Bag A Good Choice For Weekend Travel?
The women's leather weekend travel bag is the perfect companion to pack up and take with you on weekend getaways. It is chic and offers a generous space for all the essentials you need for a successful trip. 
Its durable leather construction allows you to use it repeatedly without losing lustre or integrity.
Its lightweight design makes carrying it an easy task. With this women's leather travel bag at your side, you can focus more on adventuring and less on being weighed down by baggage. 
Women's leather travel bags are an excellent option for women looking for a convenient and attractive way to bring their belongings with them each time they head out for the weekend.
Tips On How To Care For And Clean The Weekend Travel Bag
Taking proper steps towards caring for and cleaning your women's leather weekend travel bag can extend its life and keep it looking new. Here are some tips on how to care for your travel bags to maintain their shine;
Wipe Your Bag With A Damp Cloth
With proper care, your weekend travel bag will remain pristine for years. The best way to clean this women's weekend travel bag is with a damp cloth. 
Gently rub the fabric over the canvas and leather components to remove dirt and dust particles without causing any damage. A regular cleaning schedule of once a month is recommended to keep your women's weekend travel bag at its best.
Use Conditioner
A women's leather weekend travel bag is an excellent addition to any wardrobe. However, it is essential to take proper care of it and clean it regularly to keep it looking sleek and spotless. 
When not in use, store your women's leather weekend travel bag in a cool place away from direct sunlight. The last thing you want is for the surface of your leather weekend bag to crack due to heat.
Never Use Abrasive, Oils And Ammonia
The women's weekend travel bag should be a joy to use and look great wherever you take them. But for that to remain true, ensuring the bag receives proper care is essential.
To do so, avoid using abrasive or ammonia-based products on your leather travel bags, as it damages the leather surface.
Likewise, natural oils should not be used as a cleaning or conditioning agent, as they can fade colours and darken the leather. Instead, opt for a gentle cleaning solution specifically designed for leather goods.
Use Cleaning Ingredients For Stains
Tackling stubborn stains on a leather travel bag can seem daunting. Fortunately, with the right combination of cleaning ingredients and methods, those stains are not just conquerable but also preventable.
For general cleaning, start by wiping the exterior with a cloth dampened in warm water and mild detergent. Use an appropriate leather cleaner to remove dirt on the surfaces without damaging them for tougher stains. 
If grease or oil spots on the surface or interior, mixtures of baking soda and vinegar can help lift away spots and any residues. Finish with a conditioner or leather finish polish to keep your women's weekend travel bag looking new.
Store The Bag In A Cool And Dry Place
When women want to hit the road, few bags can match the stylish practicality of a women's leather weekend travel bag. However, caring for these bags is essential to keep them functional and pristine.
To ensure that your women's weekend travel bag retains its quality and lustre, always store it in a cool and dry place. Avoid damp or moist areas, such as bathrooms and basements, as they can cause the leather to degrade.
Get The Best Women's Weekend Travel Bag From Bostanten
After closely reviewing the Bostanten Women's Leather Travel Bag, it is obvious why it is an excellent option for weekend travel. This bag offers valuable features, such as pockets for storage and an adjustable strap for ideal comfort with a unique aesthetic appeal. 
This bag will not only last you many weekend trips to come, but if cared for properly, it will retain its classic design and beauty throughout the years. 
Do you need more reasons to add the Bostanten Women's Leather Travel Bag to your weekend essentials list? So, head over to Bostanten now to make the purchase!
---