What to wear to a holiday office party
 
Are you heading out to an important office holiday party? Maybe you need a bit of help pairing up your staple pieces and making something attention-seeking, and appropriate, but also office-friendly. You want to be able to look elegant without overdoing it or looking too casual. This is why investing your money into some key pieces might be crucial. Not too sure how to make an outfit pop or look great? Here is what your shopping and outfit options should look like!
Double-check the dress code
Check the dress code, no matter where you're headed. You can be told the dress code along with the time and place of the celebration. Speak with the department hosting the party if the dress code isn't specified in your email. To gain a sense of the possible general wardrobe theme, you can also inquire about the clothing choices of other office workers. Based on the venue and expected attendees, you may also make an educated guess as to what the dress code will be. You could wish to wear something formal, businesslike, or sophisticated if, for instance, your holiday party will be held at your supervisor's house and other members of leadership or clients have confirmed their participation. Do your research and take it from there.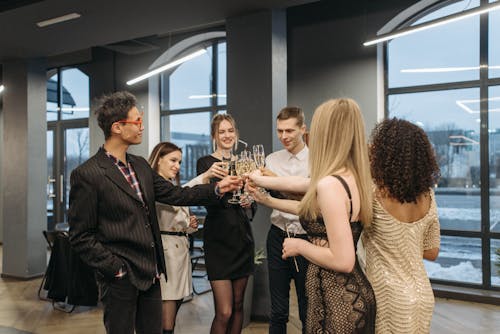 What to wear to a holiday office party: Top 5 tips to follow
High heels for confidence
You can begin creating your perfect outfit and your wardrobe by incorporating the right high heels for your business office party. Since it is the holiday season, the most common, popular, and bulletproof solutions are red and golden high heels. These colors usually add a lot of style and dazzle, but also character to your outfit. Red and gold heels, when combined with some golden jewelry, are going to make you look like such a lady. Go for wedge heels if it is warm outside, or try out short platforms if you need something more appropriate for colder days. The right heel will make you look and feel confident while allowing you to assert dominance everywhere you go, and at any office you step into.
The right bag for practicality and storage
You should rock a stylish bag, preferably a large tote bag, to make a statement at the office. However and during the holiday season, you can bring a mini clutch, crossbody bag, or something that you think is stylish. If you want to enjoy a high quality leather bag and have it accompany you to formal occasions, switching between work and leisure, make sure you check out Bostanten.Women who are in their twenties to fifties will easily find something that they enjoy on this site. You can go for any color, size, as well as style you like. Women who want to look dominant without being too sexy or overwhelming will enjoy all of their bag collections. Check it out and see for yourself!
Suit it up if you want formal attire
Does a suit make a man? Or better to say - does a suit make a woman? The old saying does say so. If you're a fan of elegant suits and asserting dominance with your chosen outfit, it is time to pick out your perfect blazer! You can try rocking a good old staple (black blazer), or you can spice it up by adding a bit of color to your closet. For a lot of women, green, blue, or pink shades are the way to do it! You will look a lot more fashionable by picking out the right type of blazer and classy pants for your party. Opt for a silky blouse underneath to show off your sex appeal, but still keep your dress code office-friendly. You can also tie around a scarf and rock your favorite neck accessory to add even more layers and elegance to your fit.
Little red (cocktail) dress
Cocktail dresses will never go out of fashion. Which cocktail dress is your favorite, and what shade do you want to wear? The truth is that a cocktail dress will make or break your outfit. The whole point is in knowing how to style it. For best results, we recommend putting on an outfit that is sexy and comfy, since you will probably be dancing for the entire night and spending time on the dance floor, or at least having small talk with your colleagues. If you are a girl who loves to dress up and assert herself everywhere you go, go with something fancy and playful.
Elegant skirt for mature women
Asymmetrical skirts or A-line skirts are going to look so fancy on most women. If your office party is semi-formal, this is an item worth considering and getting. If you want you can pair the skirt with your favorite top, but aim for something silky smooth. Cotton and silk can look good when paired together. You can also put on a stylish belt to round up this look. If you're all about elegance and flowy skirts, why not enjoy and embrace this clothing item? Go for your favorite color combo in order to feel like your best self.
PS:

Avoid wearing jeans
While a pair of dark, fitted jeans can look chic in some settings, this might be a bit too casual for your holiday party. Rather consider putting on any of our previously recommended items. If not possible, make sure that you wear your best pair. Simply make sure they are free of any holes and have a dark wash instead of a light wash hue.
Time to shop and create a new fit!
So, are you ready to make a statement? Do you want to attract looks and attention everywhere you go? If so, which item and outfit is going to make its way to your shopping list? As we all know, tote bags and the right blazer will transform every outfit. Let us know what you're looking forward to the most, we can't wait to see you being as classy as ever.
---