Top Briefcases for Women 2022 — An Essential for Everyone!
When you hear the word "briefcase," what do you think? If you're like most people, chances are the first thing that comes to mind is a lawyer carrying a stack of important documents. While it's true that briefcases are often associated with the legal profession, they're actually suitable for a wide range of professional women.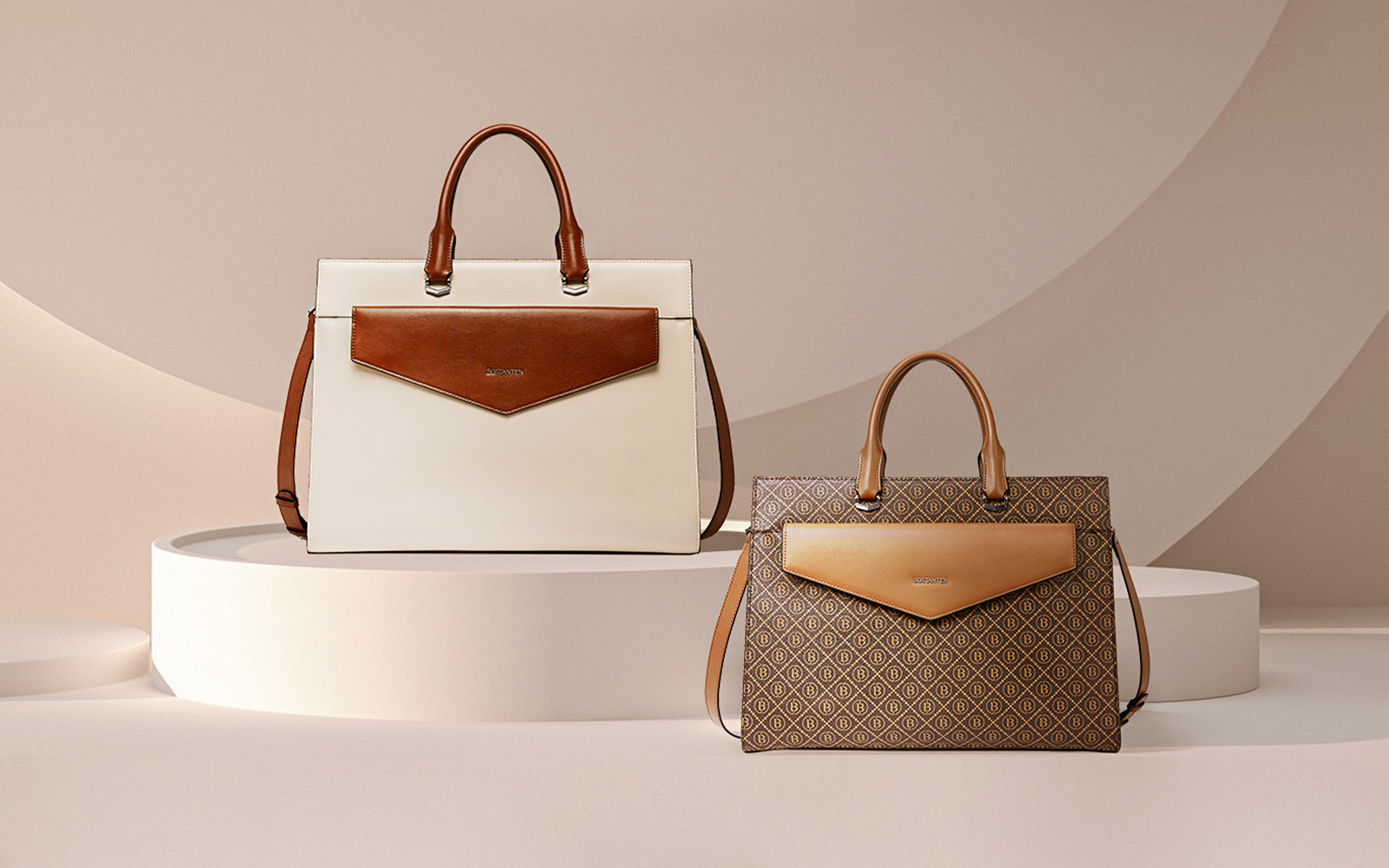 In this blog post, we'll take a look at the benefits of briefcases and some of the different types that are available and a few things you need to know about briefcases that would make your search a lot easier!
First things First: Why do Lawyers Need Briefcases?
Briefcases are an essential part of a lawyer's wardrobe. After all, when you're headed into court to argue a case, you need to have all of your important documents with you. Can't miss out on key information mid-trial, can we? But briefcases aren't just for lawyers.
In fact, any woman who needs to carry around a lot of papers or other materials will benefit from using one. Let's take a look at some of the benefits of briefcases:
They keep your hands free:
 When you're carrying a briefcase, you don't have to worry about juggling a bunch of different folders or holding onto a stack of papers. This frees up your hands so that your belongings are super safe, while you can rush through hallways and have your hands free for your morning coffee.
With all of that, you won't have to do the classic "use your hands as a purse" thing that women have been forced to do for decades because of a lack of pockets!
They keep everything organized:
A good briefcase will have multiple pockets and compartments, which means you can easily organize your belongings. This is especially helpful if you need to grab something in a hurry. Instead of searching through a pile of papers, you can just reach into the appropriate compartment and grab what you need. Best for some seamless serves.
They make a professional impression:
Briefcases convey confidence and competence. Whether you're headed to a meeting or giving a presentation, carrying a briefcase will help you make the right impression. And first impressions are essential in the business world, so you've got to get it right!
Different Types of Briefcases for Women for Different Situations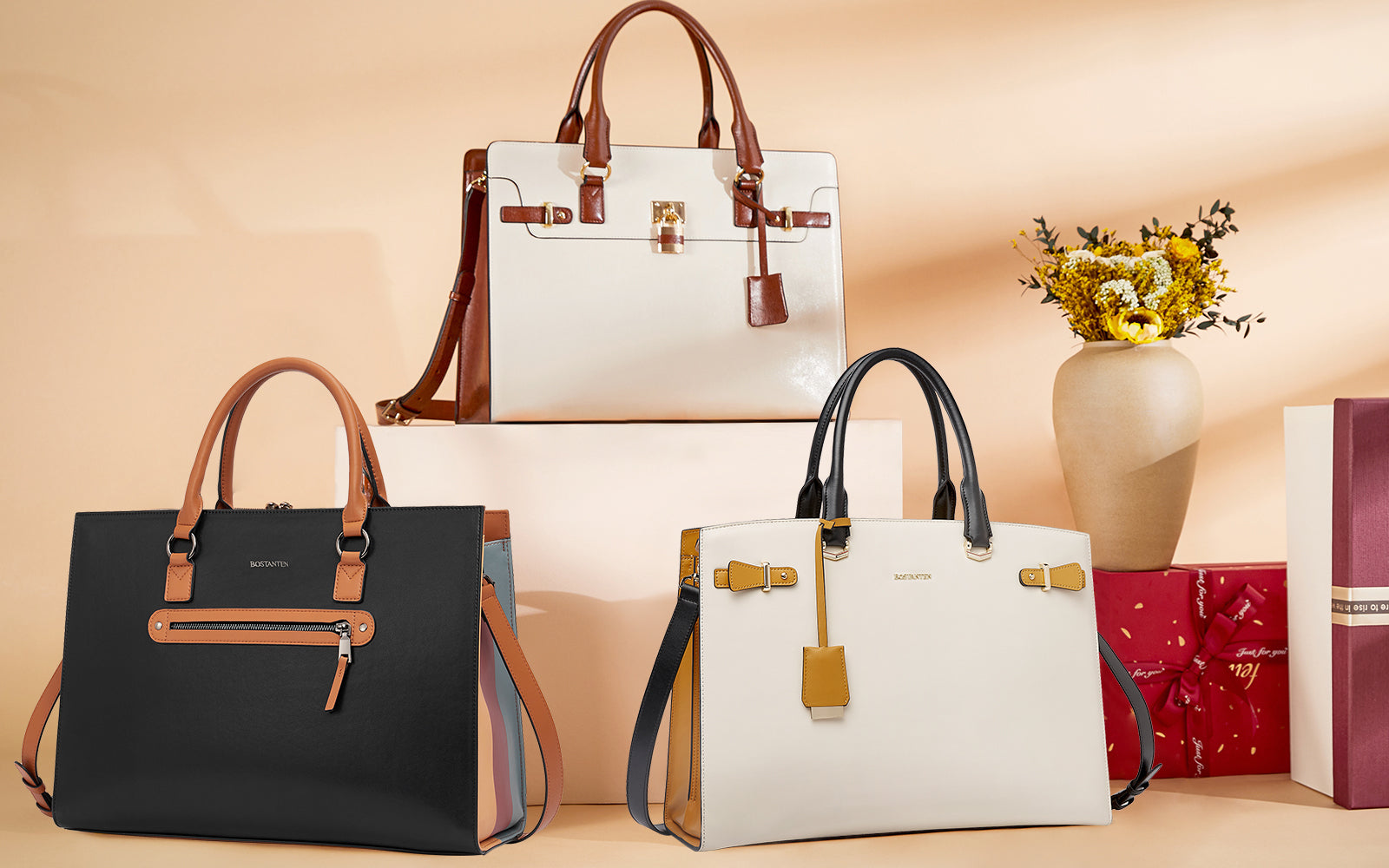 Not all briefcases are created equal. In fact, there are many different types available, each with its own set of features and benefits.
Here are some of the most popular types of briefcases you can choose from:
Hard-sided briefcases:
Hard-sided briefcases offer protection for your belongings thanks to their rigid exterior walls. They're typically made from materials like aluminum or leather and tend to be on the heavier side. 
However, because of their build, they can withstand being thrown around or dropped better than their soft-sided counterparts.
Soft-sided briefcases:
Soft-sided briefcases are usually made from nylon, leather or canvas and don't have any rigid exterior walls. As a result, they tend to be lighter than hard-sided briefcases but don't offer as much protection for your belongings. But they're still padded enough to keep your items safe inside and are a lot more comfortable to carry around with you too!
Laptop briefcases are quite similar to soft-sided briefcases but are slightly larger in size. You can usually find them in 13-inch, 15-inch, and 17.5-inch sizes, to match the average laptop sizes people may have. They typically have one large compartment and can be used for carrying your laptop and other compartments to hold any files and papers.
While some briefcases outright scream, "I'm a briefcase," there are others that could easily pass as your everyday tote bag. These are great for women that work long hours and want a briefcase that's reliable enough for work but can easily transition into a "going out bag", too. These tend to be slightly on the pricier side sometimes, but you can get a lot more use out of them because of their design.
In all of these options, you'll usually also find smaller compartments on the outside and inside that can hold a bunch of small items too, but the main focus is always on making sure that A4-size papers and files, along with a laptop, can fit.
5 of The Best Briefcases For Women 2022
Now that we have all of the main information out of the way, let's take a look at some of the best briefcases you might want to consider getting in 2022.
In today's fast-paced world, it's important to be able to rely on your belongings to keep up with you. This chic, 15.6 Inch Laptop Bag for Women is not only stylish with its black-red styling and flap over the front magnetic pocket, but it is also functional. 
It can easily hold all of your necessities and is great to carry whenever you're on the go, makes for a great lawyer briefcase, and it works well for other professions too.
The bag has dual top handles to allow for easy use on the go, and a detachable and adjustable non-slip shoulder strap that helps you sling over shoulders when you want to free both hands - especially during those morning rush hour commutes.
The zip-top closure helps keep your things away from water drops and keeps them safe so no one can just grab in and take anything. So whether you're running to meetings or catching a flight, you can rest assured knowing that your belongings are safe and sound. It might just be the best leather briefcase you can find today.
When it comes to sophisticated design, nothing can beat an all-black, sleek-looking briefcase. This briefcase isn't just nice to look at, but it's also extremely well-designed in terms of overall use.
You've got the sturdy design without the briefcase being a hard case, but it's still thick enough to keep your laptop super safe throughout the day. The amount of space this one has is surprising. Even after you put the laptop in the compartment, you'll have ample space for all of your things. You can even drop in your phone and wallet here, and instead of carrying a separate purse, just carry this, and you'll be good to go for the entire day.
The best part about the bag, though, is the long strap. With it, you can transform your briefcase into a crossbody and have your hands totally free to take on the day. The shoulder padding makes it even more comfortable to wear and makes it great for all types of people.
While most people have switched over to using 13 inch laptops on the go, there's no denying the power of a 17 inch laptop. If you're primarily working from home and have to attend meetings online, you're going to need as much surface area on the screen as possible. Generally, these laptops aren't ones you carry around because it's like carrying around a mini-TV, but with the right briefcase, anything's possible! This briefcase is designed to hold a 17 inch laptop effortlessly and still allow you to hold all of your other belongings without a problem. That's because of the fan out way the pockets are set up. If you open them all, they'll basically come together as several bags, and you'll have lots of space to put all of your things in there.
Not only is this a great bag for lawyers, but also for students, teachers and pretty much every profession that requires you to keep lots of things with you on the go.
If you're one of those people that want your briefcase to not only be functional but also draw everyone's eye to it, this is the one for you. The Mizuki Leather briefcase is one of the best briefcases you can find. That's because instead of having a massive pocket dedicated to files and laptops, it has a stretchy one that will fit it in snugly. That way, the main pocket can be huge with lots of room for filling up. You can easily carry your work essentials and your personal essentials here, and there would still be space to stuff in some extra snacks for a grab-n-go meal.
If you've ever found yourself confused about whether you should grab your tote bag, or your briefcase, we've got the perfect combo for you! This briefcase is the best work bag for female lawyers because it has all of the things you'd want in your briefcase and the things you need in a great tote bag. The perfect best-of-both-worlds type of a deal.
From the outside, it looks like a great tote bag. Simple and sophisticated. But when you open it up, you'll see that not only do you have a lot of room to put your things, but the compartments are made in the best way possible. You have a massive zipper compartment for things that might fall out, and two bigger ones for your files, papers and everything in between. Just when you thought it couldn't get any better, there's also a laptop compartment off to the side and several pen holders too. So with this one, you might just never need to get a "regular tote" ever again! Team Lawyer Briefcase Bag for life!
The Takeaway
When it comes to professional accessories, few items are as essential as a good quality briefcase—regardless of whether you work in the legal profession or not. If you need help finding the perfect case for your needs, just revisit this post to find the right briefcase for your needs!
---